Magnehelic Gauge.
Magnehelic Gauge.
We provide magnehelic gauge of s2000 series which is low in cost, diaphragm operated and differential pressure gauge. Owing to these features these are used in applications for measuring positive, negative, or differential pressure with an accuracy of 2%. Besides, these are also applied for monitoring filter status, duct static pressure, room pressure, fan or blower pressure, paint booths, dust collectors, cabinet purging and many others.
(1) Dwyer Make Mmagnehelic Gauge. Make: USA
(2) Sensocon Make Magnehelic Gauge. Make: USA

We offer magnehelic differential pressure gauges which run on air and non-combustible compatible gases and are offered with the option of natural gas. In addition to this, these housing are fabricated by using die cast aluminum case and bezel, with acrylic cover. These have exterior finish with grey color to withstand 168 hour salt spray corrosion test.

Specifications :
Accuracy: ±2% of full scale (±3% on - 0, -100 Pa, -125 Pa, 10MM and ±4% on - 00, -60 Pa, -6MM ranges), throughout range at 70°F (21.1°C).
Pressure Limits: -20?? Hg. to 15 psig.† (-0.677 bar to 1.034 bar); MP option:
HP option: 35 psig (2.41 bar), 80 psig (5.52 bar).
Overpressure: Relief plug opens at approximately 25 psig (1.72 bar), standard gages only.
Temperature Limits: 20 to 140°F.* (-6.67 to 60°C).
Size: 4?? (101.6 mm) Diameter dial face.
Mounting Orientation: Diaphragm in vertical position, Consult factory for
Process Connections: 1/8?? female NPT duplicate high and low pressure taps one pair side and one pair back.
Weight: 1 lb 2 oz (510 g), MP & HP 2 lb 2 oz (963 g).
Other position orientations.

ENVIRO TECH INDUSTRIAL PRODUCTS
Company works under the leadership of Mr.RPSHARMA Phone 9871034100, 22483365, 22083434 Email. envirotech1976@yahoo.co.in, envirotech76@yahoo.co.in,
http://envirotech.promarket.in/
http://supplyindia.in/enviro-tech-ind/products


Fan Coil Unit.
Fan Coil Unit.
Fan coil units are available in two configurations: horizontal type suitable for ceiling suspension and vertical type suitabia for floor mounting:
Casing: galvanised sheets of heavy gauge steel with suitable drain tray to avoid sweating. The fan coil unit are (double skin) painted with stove paint/ h. T. Paint, electro static paint as per customer requirements.
Blowers: the multiblade forward curved centrifugal type aluminium fan wheels statically and dynamically balanced are driven by extended shaft motor.

Fan Motor: 3 speed, permanent split capacitor type motor with extended manual speed selection.
Drain Fan: heavy gauge. Double skin insulated drain pan extend full width of coil collect condensate from chilled water coils, valve and fitting with provision of drain nipple to avoid overflow.
Cooling Coil: 3 row deep, 3/8 o. D. Copper tubing, aluminum fin constuctioin provide maximum. Heat transfer. The water inlet and outlet are provided with flare nut for connections to control valves.
Air Filter: filter are made of expanded aluminum mesh/ hdpe media/synthetic non-w oven media and are permanent cleanable type filter the air to a maximum deg.
Technical Specifications:
model no enviro tech fan coil unit.
ceiling suspended type unit.
powder coating type unit.
centrifugal blowers' dwdi aluminum impeller with static & dynamically balanced
single phase motors.
cooling coil copper pipes.
g. I. Sheet.
drain tray with insulation.
{enviro tech industrial products fan coil unit model no – etipfcu.
available size 1. 0 tr, 1. 5 tr, 2. 0 tr, 2. 5 tr, 3. 0 tr, 5. 0 tr.
fan coil unit direct driven.
fan coil unit v belt driven.
fan coil unit horizontal arrangement.
fan coil unit ceiling suspended.
fan coil unit duct able ac.
fan coil unit ac ducting system.
Applications:
· Showroom.
· Shopping Mall.
· Restaurant & Bar.
· Hotels.
· Office.
· Call Centre.
· Building.
· Clean Room.

ENVIRO TECH INDUSTRIAL PRODUCTS
Company works under the leadership of Mr.RPSHARMA Phone 9871034100, 22483365, 22083434 Email. envirotech1976@yahoo.co.in, envirotech76@yahoo.co.in,
http://envirotech.promarket.in/
http://supplyindia.in/enviro-tech-ind/products


HEPA Filter / High Efficiency Particulate Air Filter
HEPA Filter / High Efficiency Particulate Air Filter

Manufactured to the highest standards of performance and stability, the range of hepa filters is ideally suitable for protection against harmful particles emitted from radioactive substances. Hepa filter offered by us is in compliance with the ashrae testing and has the ability capture 99. 97% of particles 0. 3 microns in diameter. Furthermore, these filters are also used post filters on a multiple filter dust collection system, as a post filter in an ambient air cleaner that helps in removing light atmospheric dust from breathing zones.
Technical Specifications :
Flange Type & Box Type
Sizes Available: 610 mm x 610 mm x 50 mm / 100 mm / 150 mm / 300 mm, 545 mm x 545 mm x 50 mm / 100 mm / 150 mm / 300 mm, 545 mm x 545 mm x 50 mm / 100 mm / 150 mm / 300 mm
Customized Sizes Are Available On Request
Filtration Rating: 0. 3 Micron & More
Frame Material: SS 304 / GI (Galvanized Steel) / Aluminum.
Filtration Efficiency: 90 – 99. 9 %
Filter Media: Glass Fiber Media / Spun Bonded Polyester Media.
BS EN 779 CLASS - H10, H11, H12, H13, H14 upto U17
Filter Efficiency - H10 - 95 % @ 0.3 micron
H11 - 99.9 % @ 0.3 micron
H12 - 99.97% @ 0.3 micron
H13 - 99.99% @ 0.3 micron
H14 - 99.999% @ 0.3 micron
Eurovent Class - EU 10, EU 11, EU 12, EU 13, EU 14 upto U17
Applications.

* clean rooms for micro component electronic manufacture & assembly.
* pharmaceutical processing.
* aerospace engineeing.
* genetic & biological researh.
* biohazard atmosphere.
* laminar flow workstations.
* bio safe hood { biological safety cabinets}.
* hospital operating theaters & intensive care unit.
* atomic research.
* pre filter stage to ulpa systems.

ENVIRO TECH INDUSTRIAL PRODUCTS
Company works under the leadership of Mr.RPSHARMA Phone 9871034100, 22483365, 22083434 Email. envirotech1976@yahoo.co.in, envirotech76@yahoo.co.in,
http://envirotech.promarket.in/
http://supplyindia.in/enviro-tech-ind/products


Grill, Damper, Diffusers
Grill, Damper, Diffusers :

Expert manufacturer and supplier of grills & diffusers brings you a variety of options in this product range comprising linear grills, double deflection grills, single deflection grills, modular ceiling diffusers, rectangular diffusers, and round ceiling diffusers. Our grills & diffusers are designed and developed by extensively experienced and qualified professionals, who realize all of your expectations from a perfect grill and diffuser. Linear grills: we design and develop a wide range of linear grills apt for contemporary interiors in large sized offices, public areas of hotels and hospitals for proper ventilation. Specifications: aluminum construction # removable louvers 0 degree, 15 degree, 30 degree, 45 degree deflection.

ENVIRO TECH INDUSTRIAL PRODUCTS
Company works under the leadership of Mr.RPSHARMA Phone 9871034100, 22483365, 22083434 Email. envirotech1976@yahoo.co.in, envirotech76@yahoo.co.in,
http://envirotech.promarket.in/
http://supplyindia.in/enviro-tech-ind/products


Cooling Tower PVC Fills/PVC Fills/Evaporative Cooling Pad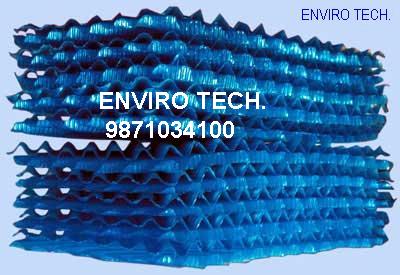 Cooling Tower PVC Fills/PVC Fills/Evaporative Cooling Pad
The evaporative cooling pad is cellulose material impregnated with insoluble anti-rot salts and rigidifying saturates. The material has spatial crossing linking technology with high absorbability. It is water resistant, anti-mildew and has a long service life.

Technical details of our pvc fills.
Standard type of pvc fills.
600mmx300mmx150mm
PVC honey combs.
25mm {12. 5 + 12. 5}.
Corrugation pitch.
2. 8 mm.
Ccorrugation depth
3 mm
Spiral angles.
21
No of pvc sheets per 150 mm width
12
Heat transfer area/cu. Ft. Of fills volume
1 cu. Ft.
Thickness of finished fills.
0. 30 mm
Heat distortion temp. For normal pvc
60 º c
For hige grade.
80 º c { upto 120 º c }
Weight of std. Fills.
800 gm to 1 kg.
we offer good quality cooling pads, which have the following features:

· lower operating cost.
· comfortable habitation.
· higher productivity.
· no water carry-over.
· strong and self supporting.
· dirt resistant.
· low maintenance.
some of the applications of our cooling pads are:
· comfort cooling.
· vegetable storage.
· mushroom farming.
· seed farming.
· dairy farms.

ENVIRO TECH INDUSTRIAL PRODUCTS
Company works under the leadership of Mr.RPSHARMA Phone 9871034100, 22483365, 22083434 Email. envirotech1976@yahoo.co.in, envirotech76@yahoo.co.in,
http://envirotech.promarket.in/
http://supplyindia.in/enviro-tech-ind/products